Suggested Propeller Balancing Procedures
By Chuck Winter
1. This propeller has been delivered to you in a near balanced condition. Without knowing the final length or particular blade tip shape you may wish to use, I have left those decisions up to you. The initial procedure is to simply measure both propeller blades to assure the exact same length. You may use your "High Point" or other similar balancers to accomplish this task. A suggestion for insuring both blade tips are the same shape is to first develop the shape you want on one tip and then transfer that shape to the other tip. To do this, trace the shape of the completed tip approximately 3 inches in from the tip on a piece of paper with a sharp pencil. Position this piece of paper with tip pattern under the other tip and use it for a
guide in matching this shape.

2. When you are satisfied with the length and tip shape of both blades, balancing procedures may begin. Using your "High Point" or other similar balancer, we mount the propeller with a brass tube through its hub on the balancer. Our aim is to produce a balanced condition that will allow the finished propeller to remain absolutely stationary in any selected position through 360 degrees. I do not recommend drilling holes and installing lead in any part of the propeller. This could be a very unsafe practice. The propeller can be brought into safe and raceable balance by light sanding of the heavier blade and if desired, the application of clear fuel-proof spray paint to the lighter blade.

3. (This is the FIRST and most important step in TRUE BALANCING) With the propeller positioned on the balancer, rotate it to the vertical position, blades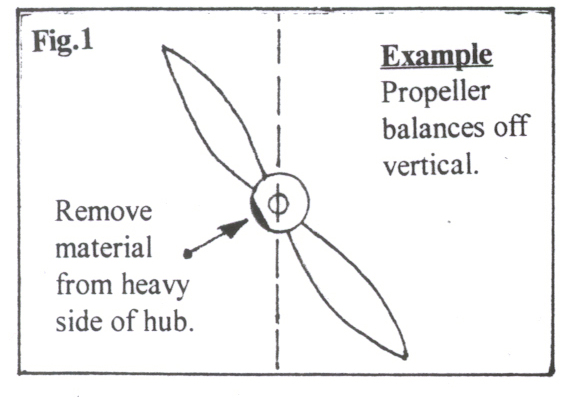 pointing up and down. We need to cause the propeller to remain still and balanced in this position. If the propeller moves from the exact vertical position, note which side is heaviest. We shall balance the propeller in the vertical by removing material from the heavy side of the propeller hub. Rotate the propeller 180 deg to insure you have located the heavy hub position. If the propeller remains perfectly still in both vertical rotations you may go to Step 4. Always remove the propeller from the balancer to grind or file material away. You can use a Dremel tool with rough sanding drums or a rough file. ( See Fig. # 1 )

4. The next step will balance the propeller horizontally with the removal of material from the heavy blade and if desired, the addition of clear fuel-proof spray paint on the light blade. The propeller will be considered properly balanced and "race- ready" when it attains the condition of stability in any position through a 360 degree circle. As a "rule-of-thumb" a piece of common bond paper 3 inches square (2 pieces stapled to instruction sheet) is the approximate weight of one coat of clear spray paint applied to the front and back of the light blade. (See Fig.#2) With this knowledge, drape a folded piece of bond paper 3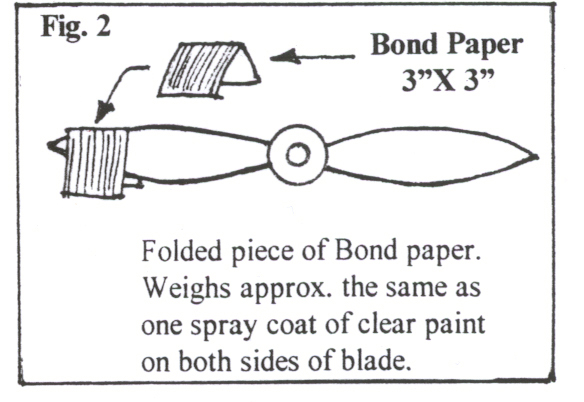 inches square over the light blade to get a preliminary appraisal of the balance condition of the propeller. If the 3 inch square piece of paper is not enough, try an additional piece of 3 inch square piece of paper. If you need more than 2 pieces of the 3 inch square pieces of paper, you should remove material from the heavy blade to bring the propeller more into balance. If you feel you need to remove material from the heavy blade, first check heavy blade's length and shape again. If removal of material is necessary , remove material from top side of heavy blade. Do not remove material from the under pitch side. If you have access to some type of measuring tool, a micrometer or caliper, check both blades for the same thickness. The removal of material from the top side of blade is best accomplished by wet-sanding with #400 wet1dry sandpaper. Periodically check the balance of the propeller during this procedure, be sure to dry the propeller before balancing.

5. When the condition of near balance is attained (one piece of3 inch square bond paper), remove the propeller from balancing device and decide if you want to remove more material or spray paint the light blade. To prepare the light blade for spray painting ,clean the light blade with acetone or lacquer thinner to remove dust, finger prints, mold-release wax or any other contaminants that will detract from a professional finish. You can hold propeller (heavy blade) in your hand as you spray the light blade. Spray outdoors or in well ventilated area. Allow at least 12 hours of drying time to attain a perfect balance. Also, don't forget to balance the spinner and back plate. By carefully using this propeller balancing procedure, you have removed a major source of vibration from your airplane. Any questions you may have or any tips that you would like to add to these procedures feel free to contact me; Chuck Winter, at (209) 723-9328.
E-mail chaswinter@aol.com See-Ya at the races!
Chuck also has racing props for sale. Here is a listing of what he has to offer.


| | |
| --- | --- |
| Available Sizes | Available Sizes |
| 18x18 | 22x24 |
| 19x19 | 23x23 |
| 20x20 | 24x24 |
| 20x20 * redesigned | 25x25 |
| 21x21 | 26x26 |
| 21x23 | 27x27 |
| 22x22 | |

Cost of the props is computed at $10.00 per diameter inch. (ex 19x24 is 19 x $10 = $190)

Please contact Chuck Winter for more information.

Chuck Winter
535 W. N. Bearcreek Dr.
Merced, Ca 95348
(209) 723-9328
chaswinter@aol.com